Solar Freezer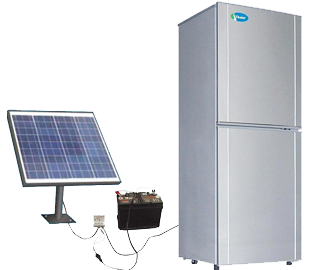 We offers freezer (F) and refrigerator (R) unit with 240.4 litres capacities. Due to their energy-efficient cooling concept,  refrigeration devices are especially suited to solar-powered applications. The top-quality craftsmanship guarantees a long useful life. an 12-cm thick insulation layer made of polyurethane ensures minimal thermal losses. The refrigeration system is equipped with a maintenance-free, Brushless DC compressor. The patented low-frost system reduces the formation of condensation water and rice. A drainage opening at the base simplifies the cleaning of the interior.
12 / 24 V DC operating voltage featuring shut-off at low voltage.
Eco-friendly cooling agent (R-134 a).
Adjustable interior temperature.
Very low energy requirement.
Highly-efficient cooling.
low Maintenance.
Double gasket to keep long cooling.
Easy to installation.